© Copyright 2020 The Envisionist LLC

Lingo in The Lightstream Chronicles
Accretion (brain) - brain accretion is quantum storage of all mental, cognitive and experiential data from a living brain for transference to a progenated being or synthetic.
Active surface - the evolution of ubiquitous computing. Active surfaces can receive or transmit data and images through via the Lightstream (see Lightstream). Nano receptors, transmitters and emitters serve to receive,
Agers - humans that choose death over an unlimited lifespan. They may take advantage of replacement organs, or other enhancements but avoid genetic alterations to stop the aging process. Average life expectancy of an ager is 148 years. Despite enhancements, agers often find themselves as social oddities.
Brain accretion - See also accretion (aka bacc-up - slang)
Brain port - a port is inserted behind the ear just below the occipital bone and laterally to just above the C1 vertebra. The port resembles a small patch about 20mm square. It blends in with the skin and becomes visible only when touched by the owner. This reveals a slender 5mm slot in the center. The port connects through a
Detail of the brainport patch.
microscopic tube to the base of the Pons, a key feature of the brainstem that links the medulla to the thalamus. The Pons is considered white matter as opposed to the grey variety and is used to conduct signals from the forebrain and midbrain. It helps a number of autonomic functions like sleep, respiration, swallowing, bladder control, hearing, taste, and equilibrium among others. It also helps you dream. (See also chipset.)
Chipset - a brain augmentation. The first chipset is installed in humans at an early age, usually when a child reaches 3 or 4 years old. The first implantation sends a stream of nano particles that are programmed to find the Pons and set up a grid, basically a set of microscopic slots that will accept updates and other programmable nodes that interface with luminous implants accessing everything from the Lightstream (see Lightstream), to infusion learning, internal body chemistry, and the V. These implants are what allow the person to receive voice and telepathic transmissions as well as to "see" who is calling or immerse themselves in the world of the V. The Pons' midbrain pathway also provides access to the hippocampus, the brains memory center. The placement of the chipset is both strategic and precarious. As long as the port is used for medical purposes only such as software updates (so to speak), all is well. With the relatively new diversion of exchanging experiences, however, memories—complete with their accompanying sensory experiences are recorded and extracted directly via the port to an external device called a swig and then can be transferred to another person. (See also swig, headjacking)
DownTown - (aka DT - slang) is a general referent to the portions of the Hong Kong 2 below 50 stories. More specifically, it refers to the area below the TopCity Spanner. Because of the massive scale of the spanner, portions of the city below were blocked from the sun and rain and hence abandoned. Other areas were flooded from drainage miscalculations from spanner run-off. Criminal elements moved into the shadowy world below and certain areas became known for illegal activities and deviant behavior. Not all parts of the city have taken this route. Hong Kong Island, for example, is not considered to have a DownTown in the same sense of the word. The area considered the highest risk extends in a 2000-meter radius from what is currently the Mong Kok district. It includes portions of Kowloon City, Sham Shui Po and Yau Tsim Mong.
A scene from DownTown.
Headjacking - The unauthorized recording and/or removal of memories from a human. Unlike selected erasure, which is, a medical procedure to remove unwanted or traumatic memories from patients, Downtown gangs have used headjacking technology. Human gang lords use roving bands of synths that have been twisted to rape and/or torture their victims while recording everything from the victim's perspective; a process called head-jacking. A small device, called a jack, clamps itself to the invisible port behind the victim's
An improvised swigging device. aka "jack".
right ear that connects directly to the chipset and the memories of the incident—complete with all five senses — are recorded. The experience is then sold on the black market. Depending on the quality of the device and trauma the victim is subjected to, if the victim survives the crime, headjacking can result in partial or total memory erasure, and in some cases, death. Headjacking is a capital offense.
HK2 - abbreviation for Hong Kong 2, the global capital of New Asia.
Hong Kong 2, Mega City
Infusion - is the process by which knowledge or experiences are uploaded into the human brain. Low level infusions can be tactile via luminous implants or more robust uploads via the
Invisible City - a section of DownTown that was flooded by spanner run-off. Largely abandoned in the flood of 2155, the area was originally an air shuttle-warehousing complex consisting of approximately 20 city blocks. Occupancy is disputed but the area does maintain some businesses, infusion bars, and Synth brothels.
Lightpod
In the 20th century, phone booths were on every street corner. Now, pedestrians
can press their finger on a light transmission pad and go anywhere in the world. Five minutes on a beach,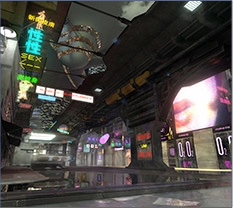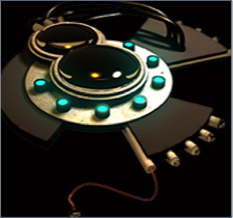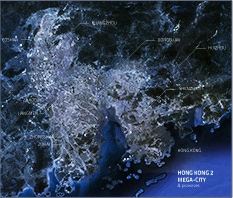 A public Lightpod.
skydiving, or any other adventure imaginable -- or not imaginable. At a public pod, 5 minutes in the Lightstream is 5 credits, (our equivalent of 5 dollars). Most TopCity residents subscribe to a plan and can access the Lightstream through tapping the correct sequence on the luminous implants in their fingertips. "Tapping" is by far the preferred method. Public pods are gradually disappearing.
Lightstream - The evolved Internet. Through nano photonics, large amounts of data can be transmitted without circuitry or wires. Nano receptors are implanted into everything from surfaces (see active surfaces) to skin implants and even beamed directly into the retina.
Mesh (The) - the massive proliferation of electronic image receivers, recorders, and active surface technology provides the ability to triangulate and decode a 3-dimensional image within virtually any modern environment. Using GPS coordinates, an active technology
A mesh image.
produces a field, which interprets the surrounding environment. Correlating data fields from multiple active technologies within contiguous environments creates a mesh, which generates a detailed 3-dimensional image of anything or anyone without the need for optical recording devices. The encryptions and addressing of millions of devices requires highly sophisticated decoding technology and is authorized for government use only. Because the resulting visual information has no regard for privacy, it is highly controversial. The government claims that mesh imagery, (of non-suspect activity) is not archived. All mesh imagery, by law, is decoded and parsed using "impartial" synthetics that evaluate activity on a strictly legal, amoral basis.
NAC - abbreviation for New Asia Corporation. Most corporations are government owned.
New Asia - Most of the world belongs to New Asia. Countries that sold to the New Asia government (formerly China) retained their identities and are referred to as French New Asia, German New Asia, British New Asia, The United States of New Asia, etc. Some smaller countries such as Switzerland never sold their countries. A small selection of states, Texas, New Mexico, Colorado, Wyoming and Montana seceded from the Union prior to the sale of the United States to New Asia. The territory is known as the United Colonies of America.
the long arm of New Asia.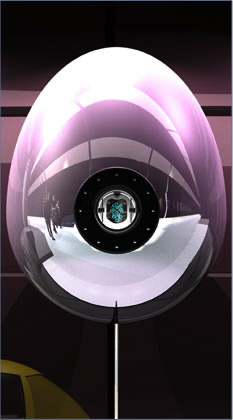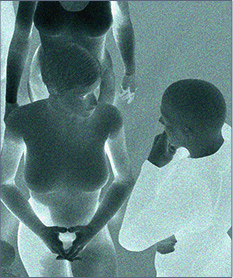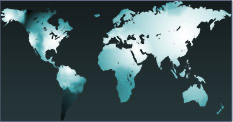 Progenation - (aka genning - slang) this is the counterpart of replication in inanimate objects though the process is very different. This is under strict government control to insure that only fully enhanced, and socially beneficial humans or endangered species are progenated and to insure that population planning limits are enforced. Progenation involves "replicating" an individual's life forms in the lab through using duplicated DNA and then transferring their brain accretion. Gifted surgeons, scientists and other "social contributors" can be genned and leased to other parts of the world where their specific skills can be utilized for maximum affect. Due to high demand, territories throughout New Asia bid on such individuals. The government has begun to designate certain promising births as potential "progens." These children are given special governmental benefits and opportunities to help insure that they will be able to be genned upon reaching maturity.
Pure-stuffs - (aka puffies-slang) usually refers to naturally made or grown food, beverages or other organic, inanimate objects, that some believe to be superior to molecularly configured replications. Since these generally require antiquated forms of agriculture, they are rare and quite expensive.
Replication - replication of inanimate objects is widespread for food beverages and hard goods. Many insist that there is a difference between a real and replicated apple, thus, "pure-stuffs" are still sold. Replication is based on duplicating molecular "fingerprints" of actual objects.
Saming - Slang for the purchase of an identical synthetic version of one's self for the purposes of companionship or a sexual relationship.
Swig - A medically sanctioned device (under medical supervision) designed for patient authorized erasure of selected memories and/or transfer to another recipient. Swigging first appeared in 2157 and is still a relatively new diversion. Selective erasure between 2070 and 2157 was sanctioned only as medical procedure. Memories—complete with their accompanying sensory experiences are recorded and extracted directly via
An legal medical swig.
the port (see brain port) to the swig and then can be transferred to another person in the same manner. Though participants swear by the "rush" of reliving someone else's experience and claim that it far exceeds virtual simulations (which are readily available), the procedure is fraught with danger. Since memory theft technology is relatively new and heavily regulated, quality swigs are hard to find and quite expensive. Unlike the illegal version known as a jack, (see headjacking) a swig under proper protocols can safely remove or transfer selected memories. Large-scale erasures are considered a medical procedure with serious risks.
Synth - Slang for synthetic. A synthetic is an artificial humanoid form. Synthetics may take many forms of appearance from mechanized to indiscernible from actual humans.
Tapping, taps - a tactile communication system that utilizes implanted sensors just below the skin on the users fingertips. Touching the fingertips together in specific sequence can be used to access information that is light-streamed directly to the users brain, adjust programs for internal chemistry, receive telepathic communications, or transfer data to active surfaces. Specialized programs and receptors allow users to transmit feelings and emotions via touch to the sensors of another individual.
TopCity - the area of Hong Kong 2 that refers to everything above 50 floors including the Top City Spanner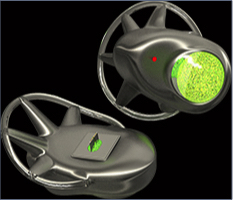 TopCity Spanner - an architectural wonder that took 10 years to construct. It connects Hong Kong Island with the North Bay, Kowloon and through to the Mong Kok area. The spanner uses programmable architecture that enables engineers to expand, add new partitions or floors.
A poster commemorating the spanner.
Twisting - The illegal tampering and reprogramming of a synthetic for committing crimes.
V (The) - Street slang for virtual immersions. (Aka virtual reality)
V chair - a levitating, home lounging device that enables users to have extended Immersions in the V. Usually reserved for the privileged and wealthy the chairs reduce skin compression, maintain body chemistry, monitor immersion time and can be hooked up to intravenous and body waste disposal accessories.
A V Chair
V palace - capsule hotels where patrons can hook up to the V, hourly daily or weekly. Longer-term guests are fed intravenously and catheterized to dispose of body waste. V palaces exist in both TopCity and DownTown, though accommodations vary significantly. The government is trying to discourage extended time in the V, as it has been shown to have debilitating behavioral
side effects.
Virtual Immersions - A fully engrossing experience that overtakes all senses and consciousness. Immersions are a form of regulated entertainment and are available in two types, programmed and retrieved. These highly realistic virtual experiences are known in street vernacular, as The V. Programmed immersions are detailed environmental simulations. Participation can occur with the users identity, or by assuming another from limitless combinations of gender, race, and species, and may entail a full range of experiences from a simple day on the beach to the aberrant and perverse. Immersions are highly regulated by the New Asia government. Certain immersive programs are required to have timeout algorithms to prevent a condition known as OB state in which the mind is unable to re-adjust to reality and surface from the immersion, a side effect for individuals who are immersed for more than 24 hours. Certain content is age-restricted and users must receive annual mental and bio statistical fitness assessments to renew their access — all of which is monitored by the government.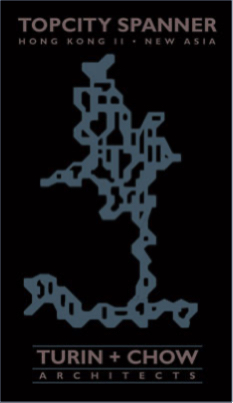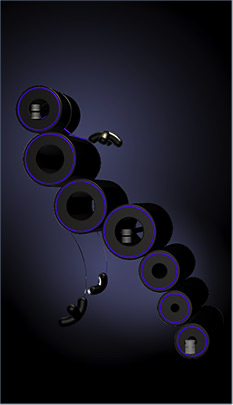 Donate with secure server via PayPal.